'People will stare. Make it worth their while'
-Harry Winston
As with all fashion trends, when it comes to golf apparel, women's golf fashion has come a long way over the years, in fact the last 470 years. Even though the game of golf is still often seen as a primarily male dominated sport, women have been changing and developing the game since the 15th century.
WHERE IT ALL STARTED
Mary Queen of Scots was the first woman in 1550s who has played and enjoyed the game in France and thanks to her enthusiasm she commissioned a golf course to be built at St. Andrews in Scotland. With her influence it soon became a widely enjoyed game across Scotland, UK and beyond,
Unfortunately, her influence and legacy did not last long. She was criticized for playing sports 'not suitable for women'. Women golfers were not heard for at least 188 years not until 1738 where women were allowed to play at Scotland's Bruntsfield Links while the game originated 26 years later in 1764.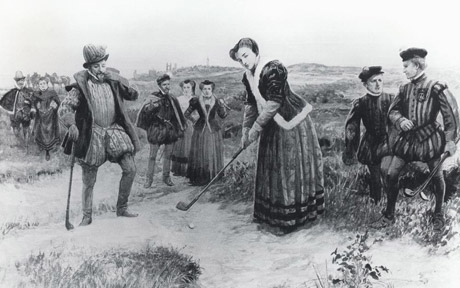 Mary Queen of Scots, courtesy of National Library of Scotland
LADYLIKE MODESTY
During the period between the 1840s to the 1890s, female golf players were the subject of widespread comment and criticism for playing the elite game. Golf was known as a gentlemen's game and women were not allowed to play. Victorian golf dresses were the main golf outfit for female players which included crinolines, bustles and multiple petticoats. These materials and outfits were not very comfortable as it gave women little opportunity for a free swing and influenced the way they putt due to the long and buggy skirts.
Photo courtesy of Scottish Golf History
During the period between the 1890 to the 1900, the female golf fashion has moved to an Edwardian style. You were not a golfer without your straw boater hat, white blouse, and long black skirt.
Even though women were eventually allowed to play the game, the dress code for these pioneering women of golf focused more on being conservative and properly covered rather than having the comfort and ease of the play.
Even though they could play golf now, their outfits made it uncomfortable and not easy to play in it. Their passion and dedication for the game push them to continue and inspire other women to learn and play.
Miss Isetter Pearson, courtesy of Scottish Golf History
FASHION REVOLUTION
In the early 1900s the long and narrow bicycle skirts came in. May Hazlet (photo below) was the winner of the Ladies Championship in 1899, 1902 and 1907 using the shortest narrow bicycling skirts.
May Hazlet, courtesy of Wikipedia
From 1920 until 1950, women's golf fashion went slightly risky. The 1920s has paved the way for fashion that was less restrictive than in the preceding decades. Corsets were out and the more comfortable bras and girdles were in.
During this 1930s, it became more common to see women playing the game of golf, wearing a matching two piece dress with a straight or a pleated skirt often worn with a hand knitted cardigan or vest. Women often wore patterned stockings, and golf shoes of the time usually had rubber soles, while pants were rare especially on the golf course. Throughout 1930s golf dresses started to follow the fashion lines where the skirt length of golf dresses stayed true to the fashionable street length.
In mid 1930s, women also dared to wear pants or shorts to play golf. This was more common and accepted in France rather than in UK or America. The surprise came in 1933 when Gloria Minoprio took part in the British Ladies Championship. Her smart and elegant outfit has simply astonished the crowd. It was the first time where a woman wore trousers to play golf. Her outfit is now in the possession of the British Golf Museum in St. Andrews.
With less clothing restrictions, female players could finally play their game significantly faster and better.
Gloria Minoprio, courtesy of Rhod Mcewan Golf Classics
FREEDOM, LIBERTY
It was the 1950s and 1960s that marked a big change in women's golf fashion. It was a time of liberation and freedom when it came to change the lengths for women, offering the freedom to wear skirts above the ankle. This change has provided women an increased mobility on the golf course by moving their arms while swinging golf clubs. These skirts were coupled with a simple blouse and layered with a cashmere sweater. For summer weather, sleeveless blouses were acceptable which was easier for women to cope with the hot and sunny conditions.
Even though bold colors and patterns began to make their appearance, the biggest golf fashion trend happened in 1960s when they introduced the skort. This new trend allowed female golfers to stay fashionable on the course without risking overexposure. As the decades were passing by more and more females choose for skorts rather than the traditional skirts and golf dresses.
It was a turning point in women's golf fashion as older, and more conservative clothes started to give away to more functional choices of attire.
Louise Suggs, courtesy of the New York Times
Betsy Rawls, courtesy of the Women's Alliance Golf Newsletter
UNISEX GOLF WEAR
The 1970s did not experience much by way of fashion transformation other than women began to wear pants suits, form fitting pants and platform shoes as statement of power and equality to their male counterparts. Women were feeling more the need for equality and inclusion. The 1970s was a year for women's movement, a liberation movement, pushing for gender equality in the workplace and education.
The 1980s saw women's golf fashion taking a change again. This time was the high wasted pant whose popularity hit its peak in the decade. Waistlines were accentuated with sleek belts and color coordinated tops and bottoms, creating a chic look for women on the golf course. Brands were eager to leverage the popularity and appeal of women's golf players around the world and suddenly made everyone want a pair.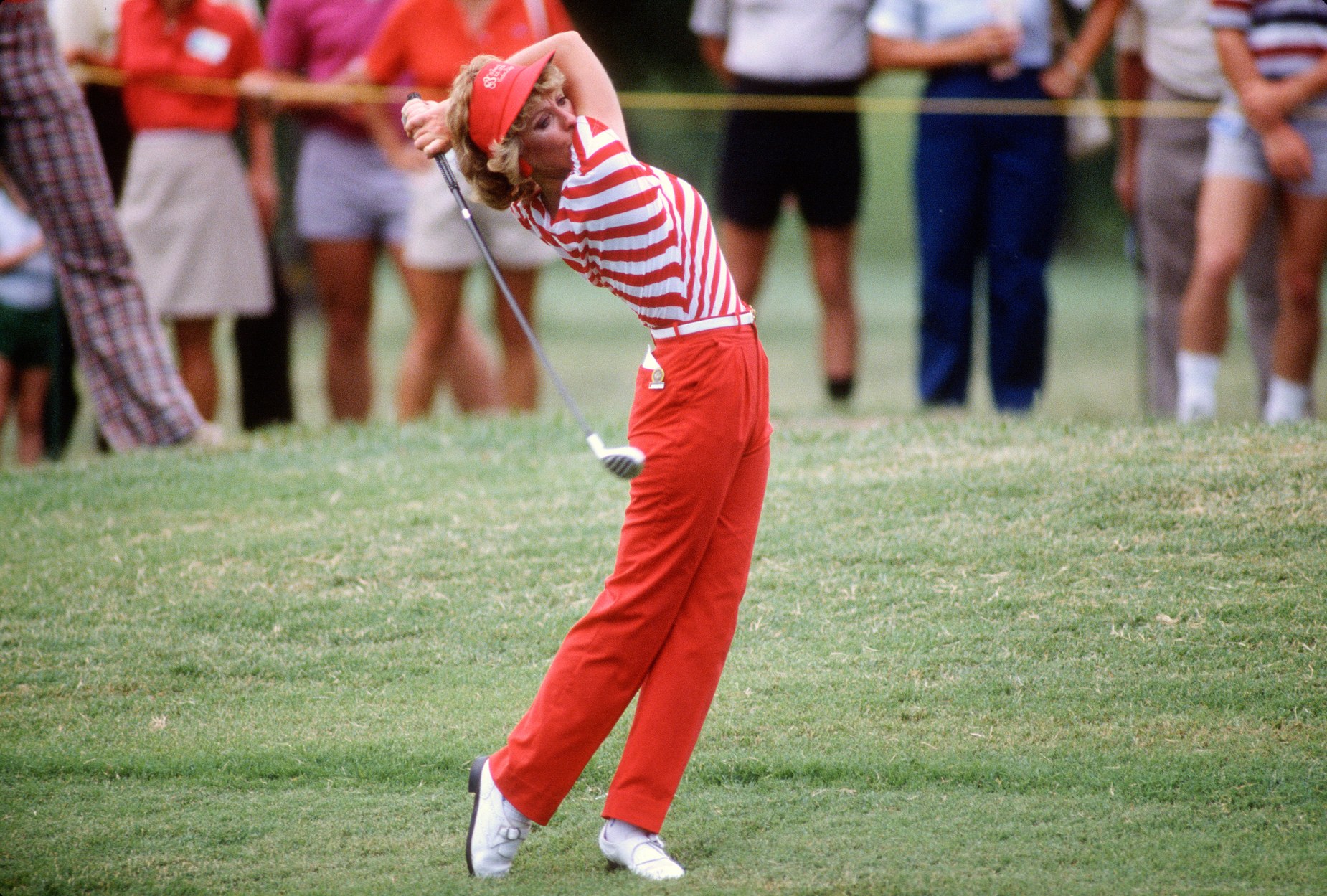 Jan Stephenson, courtesy of Golfpunk
BRAND ENDORSEMENTS
The 1990s, was a decade were women traded the loud colors for the more subdued. The classic pleated khakis were in style being more conservative. Brands follow this trend and through their marketing advertisements the style was adopted by celebs and pop starts. This was a type of player endorsement to drive global brand awareness and boost sales.
PLAYER DRIVEN SPORTS FASHION
It was not long that golfers were ready to bring back the color in the game. From 2000s to today, sports fashion has evolved to an extent where brands are designing clothes to match the personalities of female golf stars who have become influencers in their own right, inspiring fans across the globe to follow and dress in the brands they do. The athletic styles have continued to grow in the years along with their demand for clothes. Enhancements in fabric technology allowed more fitted tops and visors to become more popular again in a modern fashionable trend way.
Maria Verchenova, courtesy of Golf Magazine
Paula Creamer, courtesy of Pinterest 
FORE LADIES GOLF FASHION AT APHRODITE HILLS GOLF PROSHOP
Aphrodite Hills Golf Resort supports and develops the game for women. Our Golf Proshop carries an extensive range of women's golf fashion from the world's leading brands providing a wide selection of apparel for any age. Dedicated sections on clothes, shoes, hats, gloves with the latest trends in fashion were women can enjoy and celebrate the game in style and comfort. Some of our top brands include Ralph Lauren, Under Armour, EP, Puma, Glenmiur and Island Green.
The world of women's golf is always growing, more and more young women are finding themselves attracted to the sport. With fashion changing, the perception of the game has also changed making it more attractive for young ladies to take part and be active.
Make a statement when you walk down the fairway and let them know who is in charge with sleek and modern golf fashion from Aphrodite Hills Golf Proshop. For the latest trends and most comfortable golf clothes, we invite you to peruse our collections of top brands. Being confident on the golf course is important and it all starts with our clothes!